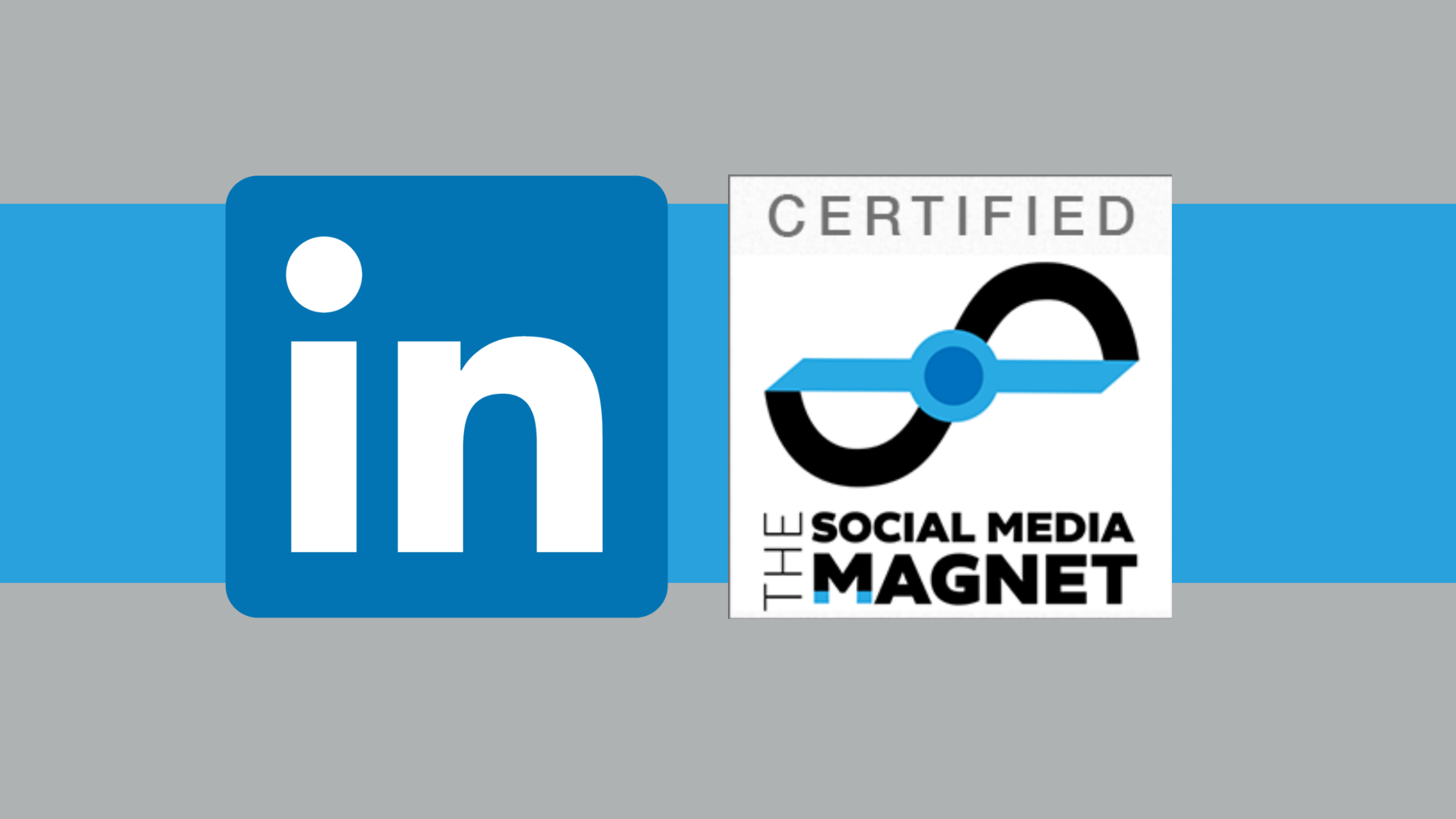 As someone who has completed The Social Media Magnet Courseware and Live Practicum, I can definitely say that it has been one of the most rewarding courses I have taken in college. Not only because it provided me with useful knowledge and practical skills that I have been able to apply to internships, but also because of my Social Media Magnet certification that I have been able to display on my LinkedIn profile.
By displaying my certification on LinkedIn, I have been able to show recruiters that I have valuable and credible experience in the world of social media marketing as well as share with them links to my live practicum where they can see my work for themselves. If you are a past Social Media Magnet student that gained your certification in class, here are our top tips for getting the most of your credential. If you are a past Social Media Magnet student that took the course before the credential was incorporated into our courseware, contact us and we would be happy to help you receive yours now.
Viewing Your Credential.
If it has been a while since you were a Social Media Magnet student, did you know that you can still access your courseware account, view the online textbook, and see your credential? You can do all of this by logging into socialmediamagnet.net/class-login/.
To specifically view your credential, click on membership details in the right-hand column.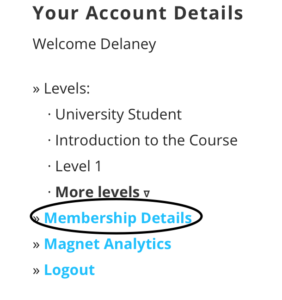 Then, scroll down to your Class Info Session, and next to Certificate, click on View Certificate.

This will take you to credential.net where your certificate can be viewed and shared. If you never added your certificate to your LinkedIn account, once again log-in to your socialmediamagnet.net account, and head to the Level 7 Certificate and Credential Page. This will walk you through the steps of adding your certificate and Social Media Magnet experience to your LinkedIn page for the first time.
Sharing Your Credential.
To ensure that you are maximizing the impact your experience and certification has on your LinkedIn page, ensure that your credential is shared under the Licenses and Certification section of your profile. It should appear like this.

If your certification is not viewable here, go back to the Level 7 Certificate and Credential Page to follow the steps to do so.
Sharing Your Experience
Another key aspect of maximizing the effect of your Social Media Magnet experience on LinkedIn is by sharing it under the Experience section. This allows you to share not only the skills you learned as a Social Media Magnet student with viewers of your profile, but direct links to your practicum as well, if your website is still active.
Under this section, I recommend pointing out the technology you used and tasks you accomplished that you believe will be most useful to recruiters that are hiring for the types of jobs you desire. For example, if you are wanting to get into the field of SEO, make sure to mention that you had experience on building organic search traffic through the Yoast SEO WordPress Plug-In.
When sharing your media in this section, make sure to follow the similar rule of thumb as in the written portion and share what you think will attract recruiters the most. I personally, like to share a blog post that I am particularly proud of, and a direct link to my practicum itself.
In order to share links, click "link" in the media section when editing your experience.

From here, you can directly paste whatever links to your website that you would like to share and click enter. This will add the page as a piece of media to your page that recruiters can then click on to view the actual site. Be cautious in this section that as the media image, LinkedIn will grab the main picture from that linked page. If the image is not formatted in just the right way, this could cause the image to be cut off and therefore look unprofessional. Make sure to link to pages where the image will be grabbed correctly (horizontal images look best).
It is our hope at The Social Media Magnet that these tips will help you maximize the use of your experience and certification and help you gain attraction from various recruiters. If you have a success story that is the result of your Social Media Magnet experience, we would love to celebrate that with you, so please share it with us here. We wish you the best of luck with your careers and would love to support you in any ways we can!