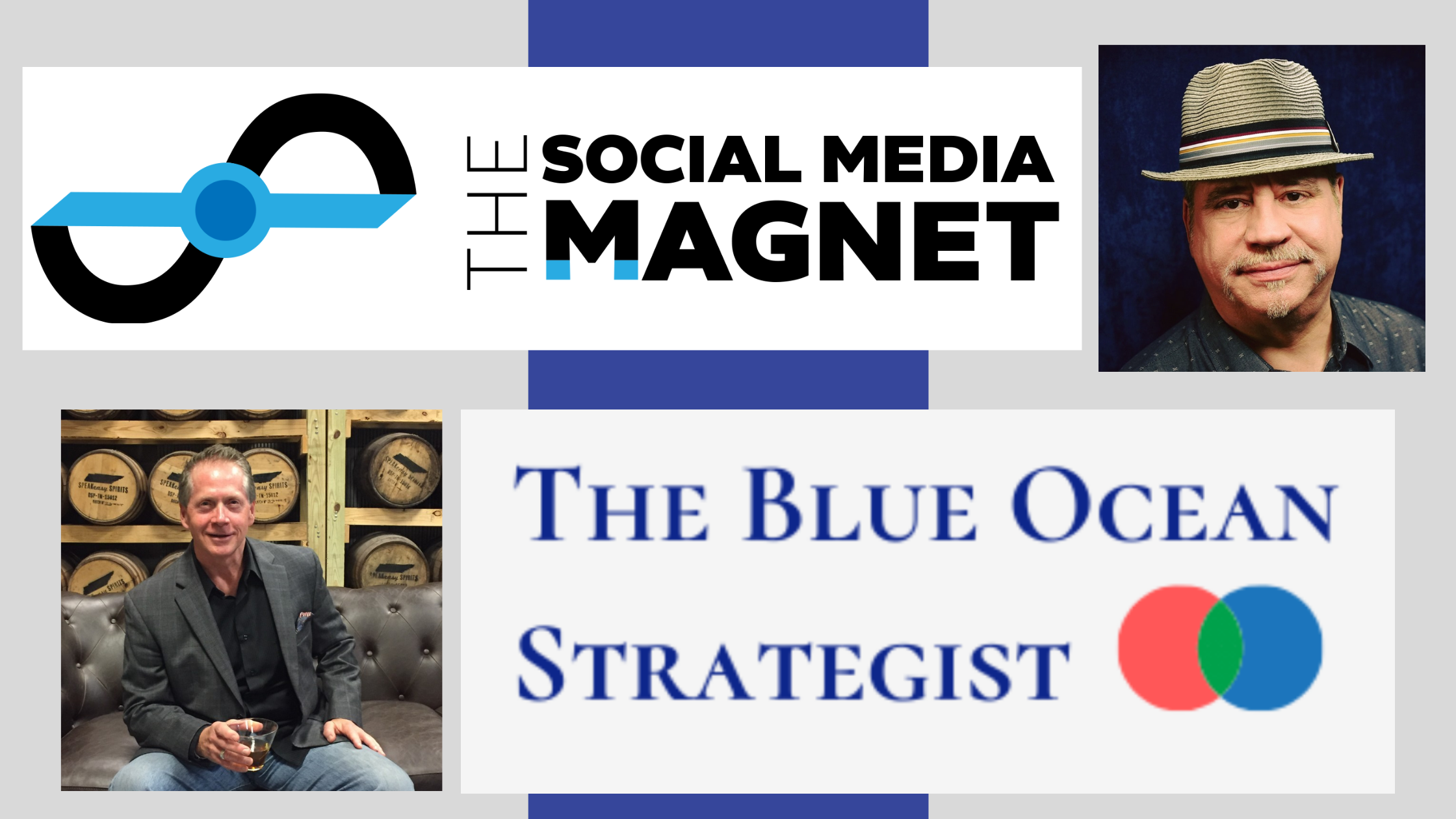 Recently, one of our co-authors Elliott Cunningham was interviewed via webcast by certified Blue Ocean Strategist, Sherman G. Mohr (INSEAD Blue Ocean Strategy Institute). Together they discussed the power of driving a company's brand through strategic messaging using the methods of Blue Ocean Strategy and the Social Media Magnet. Watch video below.
Social Media Magnet is a university courseware that has been successfully implemented in live practice, and applies a strategic approach that may incorporate the use of Blue Ocean Strategy.  The Social Media Magnet courseware was developed out of the need to teach students how to practically implement brand messaging into marketing strategy; specifically social media strategy.
In this webcast, Cunningham shares how the Blue Ocean Strategy Canvas (developed by professors Chan Kim and Renee Mauborgne) is a foundational tool for any company developing its brand to find uncontested market space.  It is an effective method and model used to help companies find their Blue Ocean differentiators by comparing the offering level of the key competing factors across all of their main competitors. An example of a Strategy Canvas is shown below.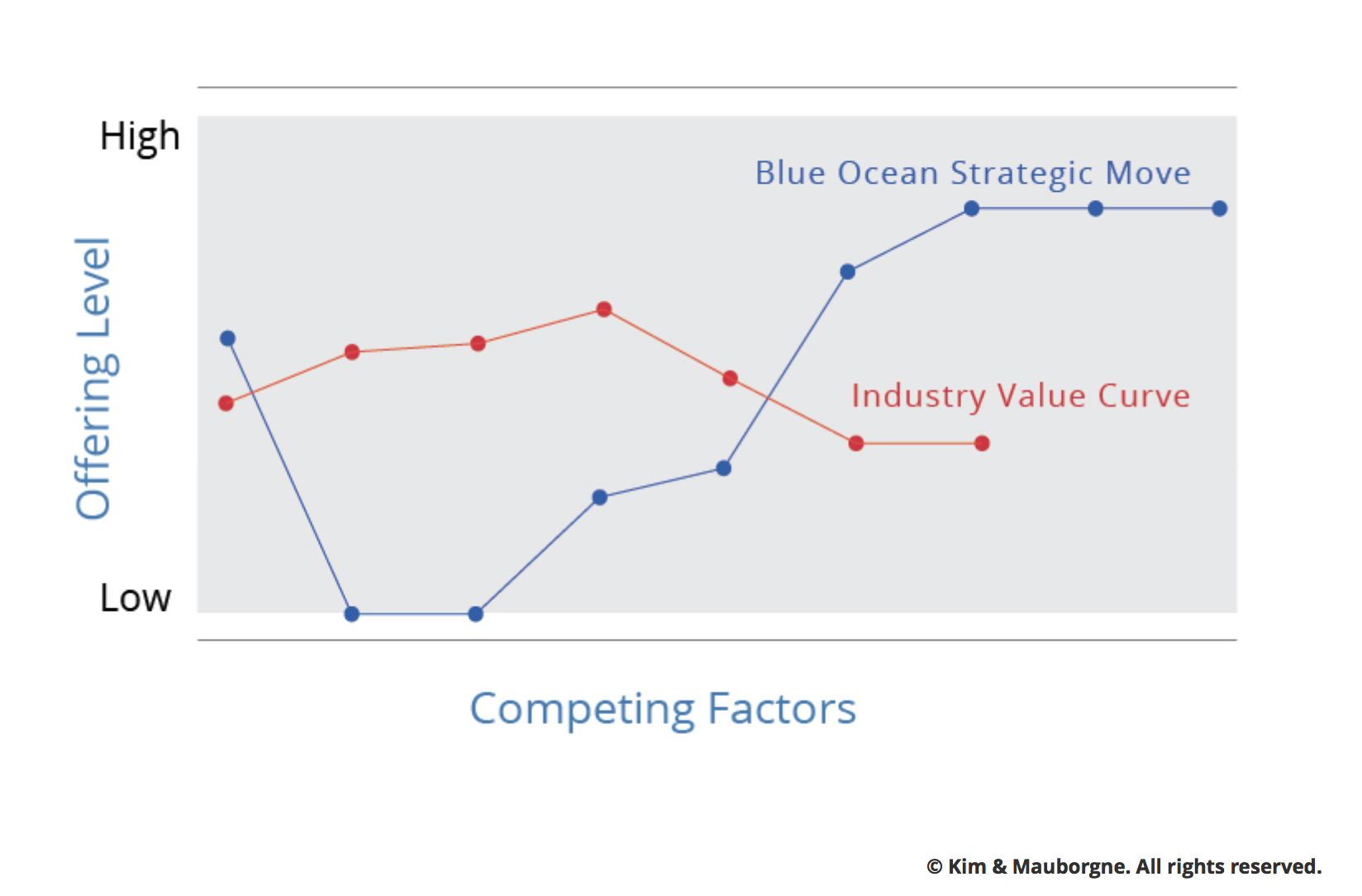 The approach of the Social Media Magnet was developed over the last 20 years in live practice, implementing brand strategies for companies through messaging online and in social media. The foundation for identifying the messaging points that a company needs to create may be developed through the creative exercise of a Strategy Canvas or other brand process.  In live practice, the ideas around developing content from this brand strategy perspective, the messaging stops being transactional, and instead becomes engaging – a necessity in today's social media environment.
In The Social Media Magnet Theory, a well-balanced brand that is producing engaging messages, while also acquiring and retaining audiences, can be represented via the below model.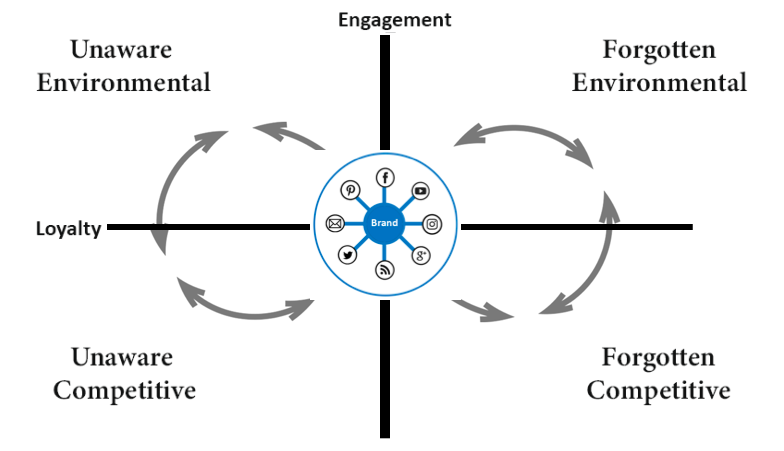 We invite you to hear more from Elliott Cunningham on how Blue Ocean Strategy and the marketing approach of the Social Media Magnet may work together in the development of a company's brand messaging.  The Social Media Magnet courseware teaches university students the theory, strategic methodology and implementation through a Live Practicum in real time, while also earning a certification.
Watch Now
Additionally, if you would like to learn more about the Social Media Magnet theory request a free copy of our white paper here.
If you are interested in teaching  the Social Media Magnet courseware at your university you can request your free Professor Preview here.