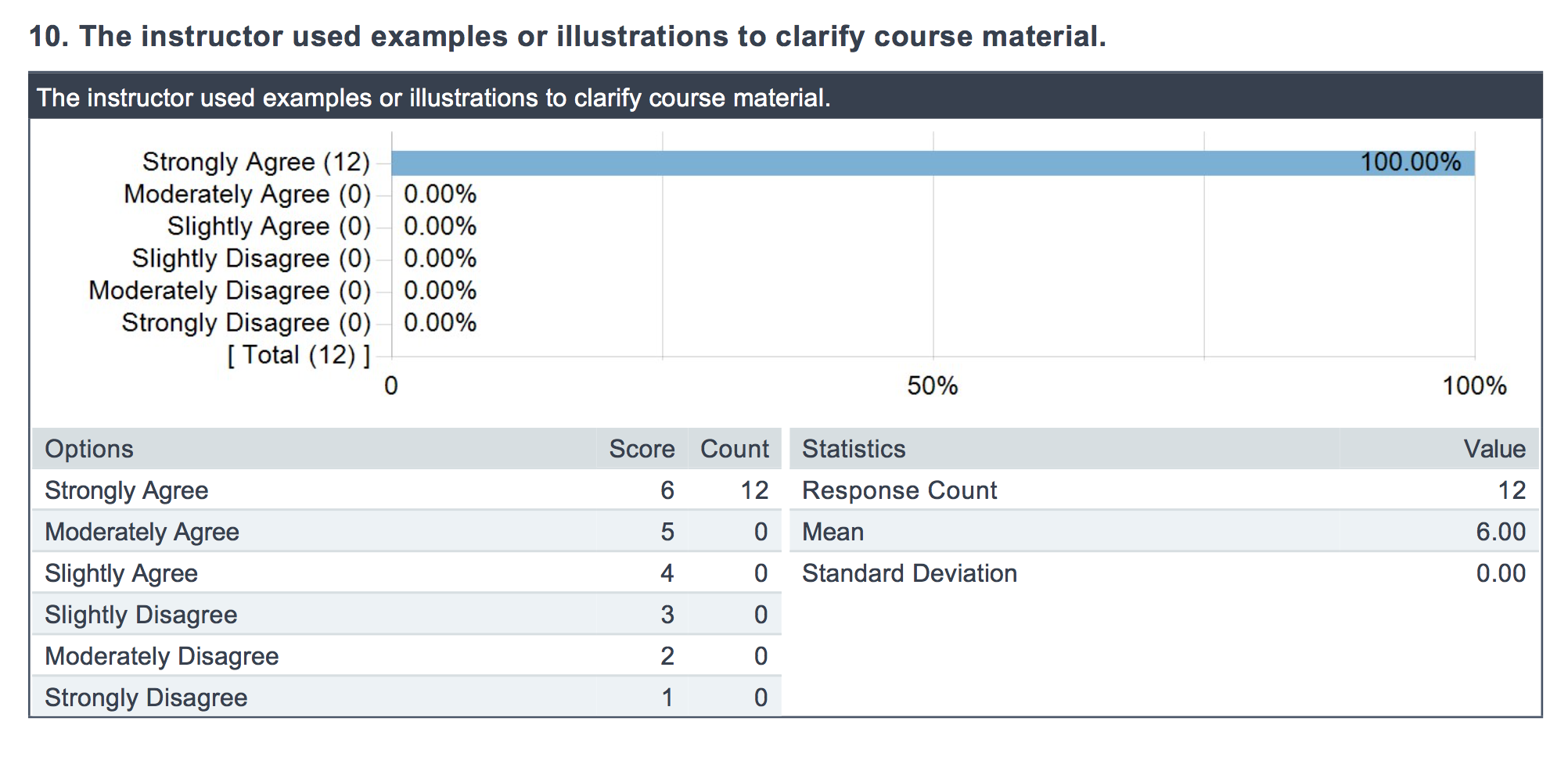 Fellow professors, I thought I would share one of the itemized assessments in my course evaluations from this previous semester.  The question above rated a perfect score on my evaluations. In this class, I scored a 6 out of 6 on this question.  That is, all of the examples and illustrations that I use in my class all come from The Social Media Magnet Courseware.  I attribute this to the clear and definitive examples that we use in our online text.  Each one is timely and relevant around the topics at hand.  We continue to work diligently in keeping these examples up to date and timely.  This is one of the many benefits of using an online courseware in your social media and digital marketing classes, as stories and examples can stay current. 
In all transparency, for this course, I had 21 students and 12 responses. Our evaluations are composed of two sections, one on the student's evaluations of the instructor (eleven questions) and the second regarding the evaluations on the course as a whole (five questions). As you can tell, this question fell into the instructor category, but again, I attribute this score and many of my other scores to the thoroughness and ability for student to connect the courseware information to the practicum exercises. I averaged a 5.74 across both sections of the evaluation, which scores above the 95th percentile across all of the questions. We are confident here at The Social Media Magnet that you can achieve the same kind of course evaluations as well with our courseware and instructor's resources.  We have tried to make it as easy as possible for you by providing all of these resources:
Syllabus Template
Tentative Schedule Template
PDF of current digital online textbook
PDF of current instructor notes for current digital online textbook
PDF of instructor notes on Domain and Web Hosting Purchase Instructions
PDF of instructor notes on Student Website Setup Instructions
Level-up Assessment Answers
Folder of Word Doc Assignments (for any changes as desired)
Folder of each Chapter's PPT (for any changes as desired)
Access to Instructor FAQs – For in-class technical student questions
Video Lectures of Each Chapter (Available Now!)
Final Exam Template
Final Exam Template Answers
Final Report Examples (PPT and PDF)
24/7 Technical Phone Support for Students
We have these resources even broken down for each level and chapter in our online courseware. You can see this overview in the Professor Library when you sign up for our Professor Preview.  And as soon as you commit to using the courseware with our Commitment Form, then you will have immediate access to all of these resources to begin prepping for your next course this summer.  If you just have some general questions, feel free to contact us.  We would love to assist you however possible.