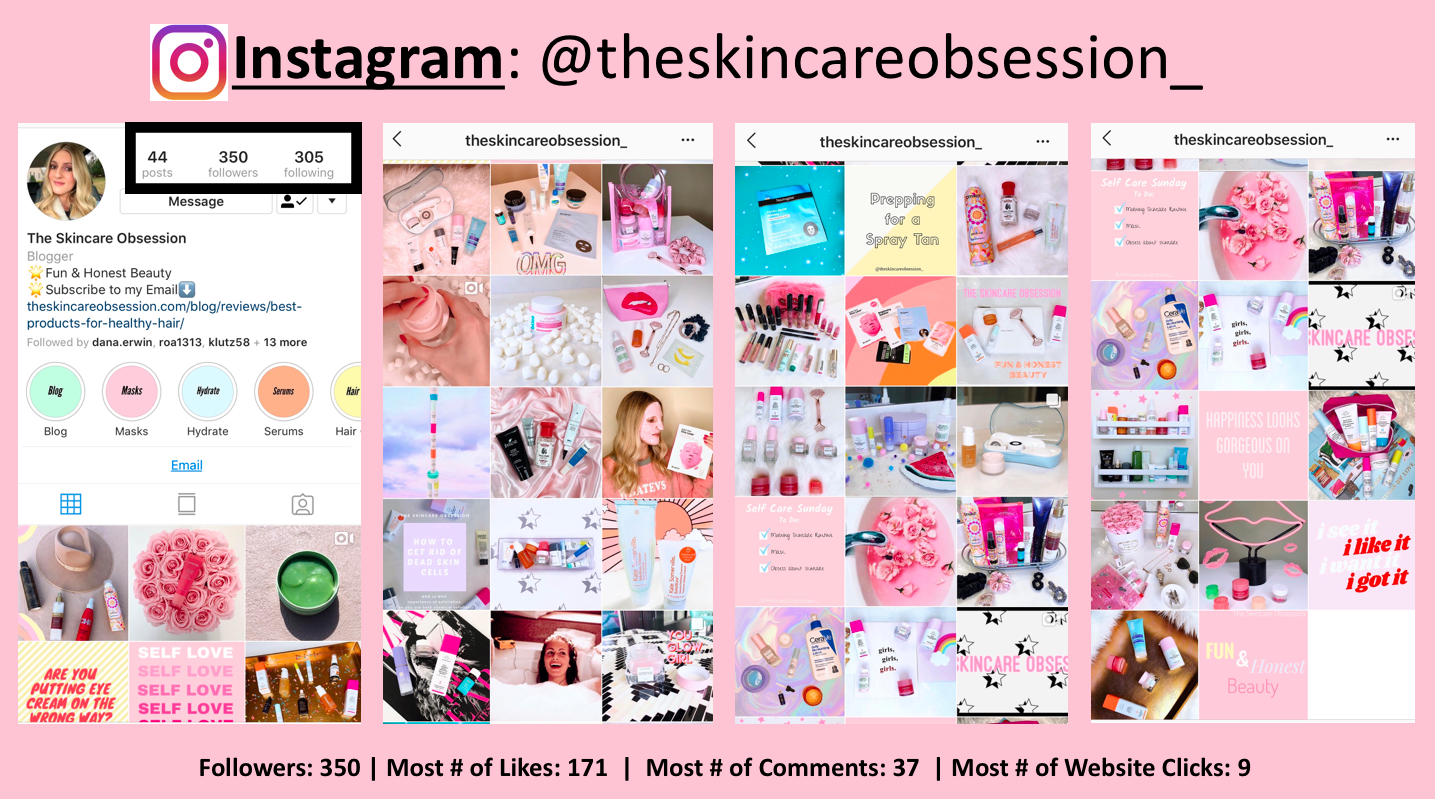 Amber Bear was a student in my Spring 2019 Social Media Marketing class at Belmont University. You can read her testimonial about the class here.  Below is information from Amber's Final Report that outlines her success with her topic on Instagram and tracking that success through Google Analytics.  Amber's experience is similar to others, in that, learning how to use these skills has landed her a summer internship.
"The Skincare Obsession Instagram was one of my favorite parts of the campaign. I wanted to get into Digital Marketing/Social Media Marketing mainly because I love the creativity behind it. Coming up with fun and different ideas for layouts while keeping a similar aesthetic was something I looked forward to. I worked so hard and spent a lot of my time on the Instagram. The most successful social media platform was Instagram for me and I knew this would be a big resource for drawing people to my blog. Instagram comes very easy to me and I absolutely love the creative aspect that the platform encourages. Instagram became a skincare community for me and I was able to connect with several people and discuss topics in my blogs. This was a strength and weakness of mine during this campaign. I made so many connections with individuals on the Instagram account and some were nice enough to subscribe to my emails. It was also my greatest weakness because I spent too much time on it and didn't pay as much attention to my other social media sites. Overall this was a big lesson for me not to pick favorites and to remember how many users are on Facebook. 
Google Analytics was very helpful during this campaign. I downloaded the app onto my phone so I could keep track anywhere I went. Google analytics showed me that the main source of my audience was coming from direct. This is because I texted the link to a lot of people and asked them to spread it around and people would click the link and go directly to my follow page. Social wasn't too far behind and Instagram was usually in the lead the whole semester but the last week Facebook passed it only by one. This class was so beneficial to me because before it I didn't know how to work Google Analytics and this skill is crucial for marketing. I feel like understanding this platform gave me an upper hand when applying for internships. I found that I enjoy the numbers side of marketing and being able to see what posts are working and what isn't. Marketing interests me because you can use both sides of the brain being creative and working with the analytics. 
My biggest takeaways were: 1) Understanding the quality of the content is more important than the number of times you post, 2) It is important to create an editorial calendar and plan ahead so you won't be stressed and everything can stay close to a message, and 3) Learning from the analytics and knowing how to improve and use the analytics to understand what's working and what isn't. This project and class has been the most beneficial class so far in college. I love that it is hands on learning and we get to learn by trial and error. Being able to take the material learned in class and actually put it to use ourselves was the best learning experience I've had. I can honestly say this class alone has prepared me for internships and jobs in the marketing field."
– Amber Bear, Belmont University, SMM Certified Spring 2019
If you are a college professor and are just becoming familiar with what we do at The Social Media Magnet, check our professor overview with highlights of our features and benefits.  If you are interested in considering The Social Media Magnet for your university, we have a professor preview function that will allow you to see and work with some of the content.  If you are already in preview, which many of you are, and you are ready to commit to using our curriculum in your next semester's class, then fill out our Commitment Form to get on-boarded and prepped for your next class.  Or if you just have some general questions, feel free to contact us.  We would love to assist you however possible.